Preschool Program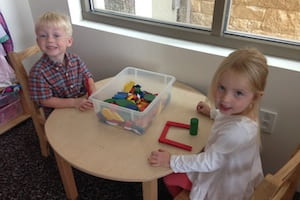 "Preschool is a time of never-ending growth and development. Our teachers use these formative years to teach children foundational academic knowledge along with a framework of social emotional learning skills. At Abacus, children are given the tools to build confidence by expressing their emotions and engage in opportunities to practice their problem-solving skills learned in their younger years."
– Jacque Unzicker, Director at Crystal Falls
Our Preschool program focuses on developing the total child. Our teachers nurture each child's potential to build on their past success and acquire new skills. The curriculum is full of hands-on activities that make learning fun. The daily schedule encourages movement and rotation, so that no one is ever bored.
As in the Young Preschool program, your child will continue visiting our indoor gym and art studio, where they will refine their overall coordination and motor skills, as well as explore their creativity through art projects designed specifically for their age-level.
Our Preschool curriculum focuses on early language skills with activities that introduce classic children's literature, develop alphabet skills, and foster a love of reading. Our teachers also begin to pass on the fundamentals of handwriting to our preschoolers using the Handwriting Without Tears program. Counting, sorting, and grouping will continue to be the focus of activities in math, and your child will start to explore science through texture, sight, sound and an emphasis on caring about nature and all its creatures.
Learning Objectives
Recognize diversity and learn about cultures
Inspire creativity
Explore music and movement
Build confidence, curiosity, and physical skills