Pre-Kindergarten (Pre-K) Program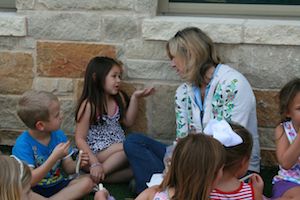 "Our Pre-K program goes above and beyond the state's minimum curriculum requirements to ensure each child is ready for their transition into Kindergarten."
-Ashley Kaspar, Curriculum Coordinator at Avery Ranch
Our Pre-K program is designed around an elementary school style schedule. Your child will have all of the resources that will be available to them when they move on to Kindergarten as part of a rich curriculum with plenty of movement and variety throughout the day. Your child's Pre-K journey will take them to the library, computer lab, gymnasium, art studio, inside and outside — we believe that simulating the experience of Kindergarten is the best way to prepare children for that leap.
To build upon the skills your child already has, our teachers will dive into simple addition and subtraction in math, explore how the world works through hands-on sensory activities in science, and continue to develop strong physical skills in the gymnasium. The art studio is one of our Pre-Kindergartners' favorite stops during the day, as the projects are always a lot of fun.
Each month, our Pre-Kindergartners take two field trips to expand their classroom learning into the world around them.
Additionally, your child will continue to develop an early knowledge of Spanish through fun, immersive exercises.