Frequently Asked Questions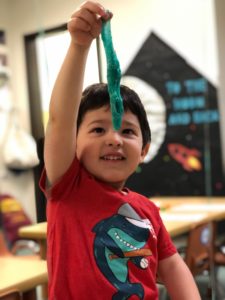 Abacus has been operating in Northwest Austin and Cedar Park since 2010. We understand the process of looking for a childcare and early education center for your new addition brings up a lot of questions. We try to answer a few of them here. If you have any others, don't hesitate to email or call us.
Q:  What's the difference between Abacus and daycare?
A:

 At Abacus, we pride ourselves on being more than a daycare center. We do this by using well-planned curricula at every age-level. Even our Infant Care program has a curriculum, schedule, and teachers that believe the time they spend with your children is an important first step on a learning journey that will last a lifetime. We strive to go beyond mere supervision to create a stimulating environment for your child.
Q:   How long is the waitlist?
A:

 This varies depending on the time of year. Generally, though, we suggest joining the waitlist as soon as possible. Spots sometimes take a few months to a year to open up, so the sooner you sign your child up, the more likely you are to have that spot come available when you need it.
Q:   Does my waitlist fee become my registration fee?
A:

 Yes!
Q:   My infant/toddler has a unique schedule. Do you accommodate for this?
A:

 Yes, we will strive to do everything possible so that your young child's day is similar to what it would be at home. We ask for information such as nap and feeding schedules prior to your infant/toddler attending Abacus.
Q:   What's the difference between Abacus' Kindergarten and Public Kindergarten
A:

 We have designed our private kindergarten program to exceed the TEKS standards set forth for public schools. We also keep our classroom small so that your child can receive more individual attention. That said, we designed our kindergarteners' day to be exactly like those at elementary schools. Your child will move around the building, visiting different learning centers, and graduate our Kindergarten ready for their journey to continue at a bigger school.