Austin's Favorite Summer Camp
At Abacus School of Austin, we understand the importance of providing your child with exciting and interesting activities in order to keep him or her engaged during the summer months.
We are very excited about the upcoming Summer Camp program!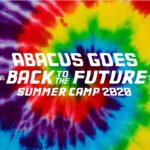 This year our summer theme will be "Back To The Future." Our program will include our 2nd Annual Block Party, daily swimming and amazing field trips and in-house events! Our "Back to the Future" voyage will begin in the 1920s and the children will travel through time and end their summer seeing what the future will hold in 2020 and beyond. The children will discover the inventions and changes that have come through the past century and changed the world to what it is today!
We will be participating in two or three field trips per week in and around Austin and the surrounding areas. All of our curriculum components will focus on teamwork, cooperation, technology, current pop culture interests and collaboration. Abacus always maintains low teacher to child ratios. Children will be placed into groups divided by age to ensure that implemented activities are not only developmentally appropriate but engaging for all.
Our goal for this summer is to foster personal growth, self-discovery, and most of all, fun with our children!
Adventure awaits your child(ren) every minute here at Abacus!
We look forward to a wonderful summer ahead!
For more information please contact
Avery Ranch Campus:
512.381.2200
infoar@abacusschools.com
Marissa Herrera:
Marissa@abacusschools.com
Crystal Falls Campus:
512.806.7788
infocf@abacusschools.com
Clara Jimmie:
clara@abacusschools.com
Avery Ranch 2020 Summer Camp Calendar
Crystal Falls 2020 Summer Camp Calendar
Summer Camp Field Trips
Every week, our campers take field trips somewhere exciting in the Austin/San Antonio area. Here are just a few planned for this year:
It wouldn't be Summer Camp at Abacus without a trip to Sea World in San Antonio!
Everyone loves baseball. That's why we'll be heading up to Round Rock to catch the Express game.
Our water adventures will take us to Summer Fun USA, Rock N River and Typhoon Texas!