Austin's Favorite Summer Camp
At Abacus School of Austin, we understand the importance of providing your child with exciting and interesting activities in order to keep him or her engaged during the summer months.
We are very excited about the upcoming Summer Camp program!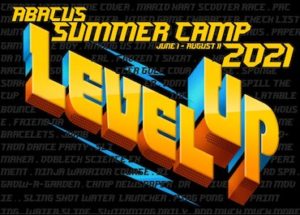 We are happy to announce that we have begun registration for our 2021 Abacus Summer Camp!
The summer camp theme this year is Abacus Levels Up. Summer camp will begin Tuesday, June 1, 2021 and will run through Wednesday, August 11, 2021. We will be challenging our Abacus campers to take this year's fun to the "next level.'' Our activities will focus on teamwork, cooperation, friendships, healthy competition, and most of all FUN! Campers will be working together to break some of the Guinness World Records! They will participate in Abacus X-games, make it through survivor week, and become extreme engineers. Additionally, we will have daily on-campus swimming and exciting in-house events, including hamster ball races, sumo wrestling, Mad Science and Foodie Kids, just to name a few.
Please see the attached summer camp information packet and tentative calendars for further details. You may return the registration forms via email or turn them in to the front desk at either campus.
For more information please contact
Avery Ranch Campus:
512.381.2200
infoar@abacusschools.com
Hunter Henfey:
hunter@abacusschools.com
Crystal Falls Campus:
512.806.7788
infocf@abacusschools.com
Clara Jimmie:
clara@abacusschools.com
Avery Ranch 2021 Summer Camp Calendar
Crystal Falls 2021 Summer Camp Calendar
Summer Camp Field Trips
Abacus will be monitoring closely as we progress through COVID-19 to determine if we will be able to safely add field trips at any time throughout the summer. More information will follow if that becomes a possibility.