Infant Care in Austin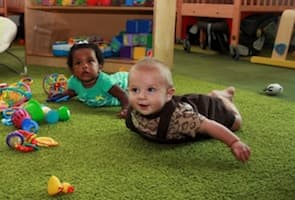 "I've never liked the word 'daycare.' For newborn infants, every moment is full of learning because the world is new and full of curiosities. That's why Abacus designed a special curriculum for our Infant Care program that encourages exploration and inquisitiveness in a loving, safe environment."
– Sheila Page, Owner/Executive Director
The exceptionally low caregiver-to-infant ratio at Abacus assures that your baby will receive optimum care and attention, as well as opportunities for development in a clean, innovative, and stimulating environment.
We provide each infant with his or her own crib, linens, mobiles, and family photos. We also work with parents to emulate your home schedule, meeting the unique feeding, sleeping, and play habits of each infant in our care.
Through the KidReports app our teachers provide daily communication about your child's activities and developmental milestones. The daily report contains information you want to know about your newborn, including:
Eating, sleeping, and diaper schedule
Mood throughout the day
Responses to activities
Special moments
The Infant Childcare Curriculum and Lesson Plans
Our Infant Care program introduces babies to healthy social and emotional interaction, language acquisition, body awareness, and motor control.
Most daycare centers provide supervision, safety and play. Abacus goes beyond. Our planned activities, based on our school-wide themes, encourage your child to learn and explore colors, senses, and communication.
Unique to Abacus, the Infant Gym is a learning center specifically designed for gross motor development. This separate, padded, indoor gym for infants is a safe environment to begin to crawl outside the classroom and learn to explore. Designed with surrounding mirrors and music, your infant will be delighted to crawl, climb, and roll in this space.