Curriculum Coordinator at Avery Ranch
Ashley Kaspar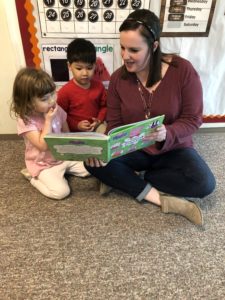 I am originally from San Antonio but have lived in the greater Austin area for almost six years now. I have been married for three years and have recently had a child of my own who attends Abacus.
I graduated from Texas State University in San Marcos with a bachelor's degree in Education. I also earned my teaching certificate for working with children in early childhood through sixth grade. I have taught Pre-Kindergarten and Kindergarten with Abacus School of Austin at both our Avery Ranch and Crystal Falls campuses before becoming the Curriculum Coordinator at our Avery Ranch campus.
Education has always been my passion and am excited to share that love with the teachers and children at Abacus. I am currently in the process of extending my training through a master's degree in Educational Leadership through Texas State University in Round Rock.
As the Curriculum Coordinator, I will strive to ensure not only the safety and well being of each child, but to also assist the teachers in implementing and planning activities to help the children grow their individual knowledge and skill sets. Abacus sets high standards for our teachers because we know that they always follow through and go beyond the needs of the children they work with each and every day.
I look forward to getting to know each and every family better and helping the children here grow and develop throughout this very important time of their lives.