Toddler Program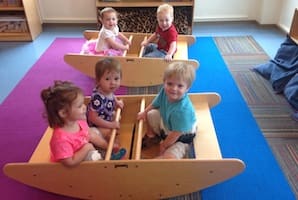 "To teach toddlers is to be reintroduced to the world through eyes that see only magic and wonder. To teach toddlers is to truly know pure happiness."
– Stephanie Lawrence, Director at Avery Ranch
As your child learns to walk, talk, and develop relationships, our childcare professionals work to instill self-confidence as he or she begins to interact with others. Our Toddler Care program goes beyond your standard daycare to provide a balance of nurture, play, and learning throughout the day. Our learning centers for toddlers focus on creative arts and crafts, language skills, gross and fine motor development play, and sensory exploration.
Just like in our Infant Care program, all of our teachers communicate with parents daily through the KidReports app, sending photos, behavior updates, and special moments so that you can be a part of your child's day.
Primary Toddler Learning Objectives:
Inspire creativity in visual and interactive arts.
Explore music through play, activity, and song.
Nurture confidence, curiosity, and physical skills.
Toddler Childcare Program Curriculum and Lesson Plans
In the Toddler Care program, our teachers work with your child to build on the skills learned in the Infant Care program in a safe and happy classroom, where toddlers learn to be more independent and interact with other children. Playful activities are built around the school-wide theme and focus on a variety of subjects, including letter and number identification, seasons, and size (bigger vs. smaller, shorter vs. taller, etc…).