Curriculum Coordinator at Crystal Falls
Molly Gilbert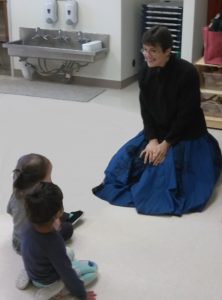 Hello! Welcome to Abacus and all it has to offer you and your family. As my tenure here continues, I am thrilled to be part of such a visionary establishment. I have the best job on campus: supporting teachers in caring for and instructing your little ones.
My educational background includes a bachelor's degree from Utah State University in Special Education. I was always more interested in learning how to teach, rather than what to teach, and focused on the education of students with severe-profound disabilities (grades k-12). My teaching career spanned several environments from private school and self-contained classrooms to serving as a Special Education Coordinator to an entire school district. I have lived and worked most of my life in the western states and was raised by southerners. My new home in Texas is a perfect fit for me with a mix of both cultures and I hope to stay here for the duration of my life with my husband and children.
My passion is growth and learning; both for myself and those whose lives I am invited to share. As I have collaborated with Abacus Staff, I have found them to be some of the most inspiring people of my experience. They put their whole hearts into their jobs and are open to change and new ideas. The parents who become part of the Abacus family are valued and heard. Each voice matters…from the loudest to the tiniest. Our curriculum addresses social, emotional and academic needs in a platform of monthly themes. The unity present at this center is palpable. Really, I love it and am so glad to be a part of it.